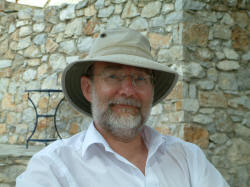 RB On Skiathos 2003
I don't usually look as relaxed as this but I was on my hols on the lovely Greek island of Skiathos.
Until recently I was a lecturer at City College Norwich, in Norfolk, in the United Kingdom but recently I have moved back into the construction industry again.
I am a Chartered Quantity Surveyor and I have taught all sorts of construction subjects but my particular interests are in construction technology and quantity surveying.
I have taught on BTEC AVCE, NC, ND and HNC and also CIOB SMETS courses. My students have been all ages from 16 yrs to 56.
I have created this website in order to help students and any one else who cares to use the information the site contains.
You'll find that it's primarily arranged around supporting information for Edexcel BTEC NC and HNC courses but from time to time other interesting things are likely to come and go.
I started this off in July 2004, hopefully as time goes on it will grow but, for now, it's very much a work in construction ....... This means that the arrangement of the site is very basic and has plenty of room for improvement.